Topics in symplectic and multisymplectic geometry
Topics in symplectic and multisymplectic geometry
January 10 2017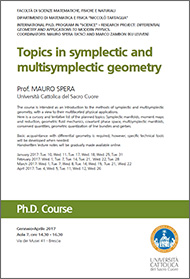 Ph.D. Course
January-April 2017, Room 7, 14.30 - 16.30
Università Cattolica, Via dei Musei 41, Brescia (Italy)
Prof. MAURO SPERA
Università Cattolica del Sacro Cuore
The course is intended as an introduction to the methods of symplectic and multisymplectic geometry, with a view to their multifaceted physical applications.
Here is a cursory and tentative list of the planned topics: Symplectic manifolds, moment maps and reduction, geometric fluid mechanics, covariant phase space, multisymplectic manifolds, conserved quantities, geometric quantization of line bundles and gerbes.
Basic acquaintance with differential geometry is required; however, specific technical tools will be developed when needed.
Handwritten lecture notes will be gradually made available online.
January 2017: Tue. 10, Wed. 11, Tue. 17, Wed. 18, Wed. 25, Tue. 31
February 2017: Wed. 1, Tue. 7, Tue. 14, Tue. 21, Wed. 22, Tue. 28
March 2017: Wed. 1, Tue. 7, Wed. 8, Tue. 14, Wed. 15, Tue. 21, Wed. 22
April 2017: Tue. 4, Wed. 5, Tue. 11, Wed. 12, Wed. 26
Flier (pdf)